S-Noni production technology and quality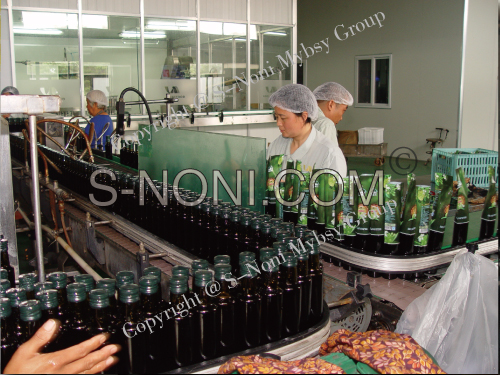 Noni production process classification
The quality of noni products first depends on the source of noni fruit. The quality of raw materials is not good, and there is certainly no way to improve them with technology. Moreover, good Noni fruit also need to be matched with the right process technology to make good products. With good Noni fruit raw materials, good products can't be produced without good technology; It is impossible to produce high-quality products with poor quality noni fruit and no good technology! So when you see that advertising is a product that has been made for many years, don't believe it! The reason is very simple. Garbage brewed for 100 years is still garbage.
Why is Lafite wine and Guizhou Moutai famous in the world?
Why can't China make Lafite quality wine? Why can't the quality of Maotai liquor be produced in other places except Guizhou Maotai? This is why the same wine, Have a bottle of wine that dozens to hundreds of pieces, also have a bottle of wine that tens of thousands to hundreds of thousands?
The quality of the liquor brewed by the same technology using different raw materials or under different environments is far different. For example, Guizhou Moutai must be brewed successfully under that specific environment. If the brewing base of Moutai is transferred from Guizhou to Hainan Island, it is impossible to make the same Guizhou Moutai.
This shows that it doesn't matter how long Noni products are fermented. The important thing is whether there are good Noni raw materials? With good Noni raw materials and good technology, the two complement each other, and only in the right environment can we make good products.
 The quality of noni can be verified for a long time, but there are also many low-quality noni selling at high prices as high-quality noni. The price has become a blind spot for consumers. If the economic conditions are not good, they will choose products with relatively low prices from the online sales platform by comparing prices; Consumers with good economic conditions may think that the higher the price, the better the quality. This is why a bottle of mixed noni juice of a certain brand can sell for ¥2800/750 mL?
 Consumers who choose Noli products generally want to maintain health and recuperate their unhealthy bodies. Therefore, they must be more careful in the process of choosing products. First of all, they should take safety as the prerequisite to avoid buying toxic products containing hormone fertilizers, heavy metals and pesticide residues, and then consider the effective ingredients of the products. Only by learning how to distinguish the quality of Noli products can we choose products suitable for ourselves and avoid being deceived!
Noni self fermentation technique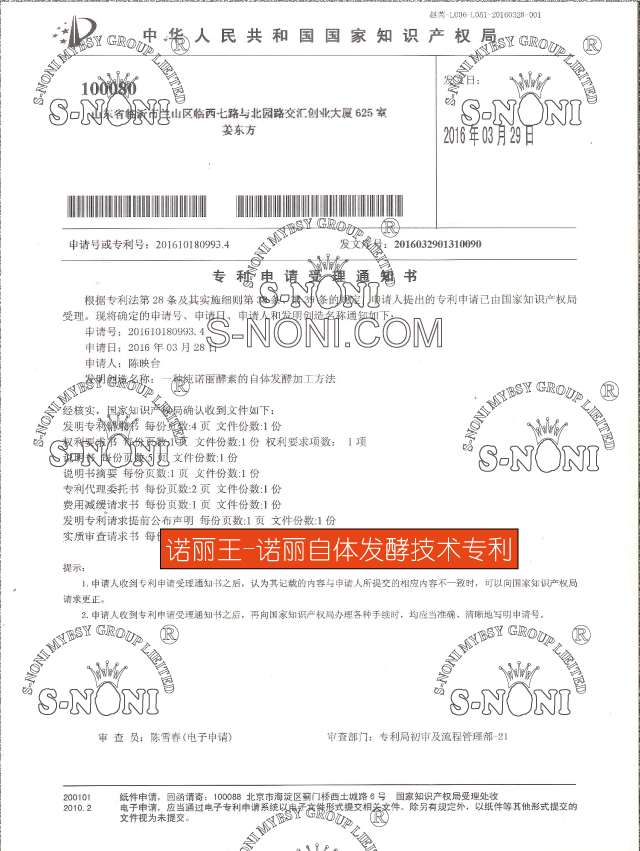 Noni factory invention of noni self fermentation technique
Noni factory is made from pure Noni autologous fermentation processing method of pure Noni enzyme.
Brewing process with no added three stages of fermentation step by step, Preservation the original composition of noni itself is not damaged, avoid the risks of using food additives, and can make the fermentation process fully, let the rich nutrients of noni fermented more completely.
Production steps are as follows: optimizing mature noni fruit, cleaning, drying, the barrel in the second stage, the first phase of fermentation, fermentation, squeezing the filtrate concentrate, the third stage of fermentation, sterilization, filling, capping, pour bottle, inspection, spray cooling,
"Noni self fermentation technique" has the following advantages of technical effect or at least:
 Do not add additives, outside the noni is 100% pure noni enzyme;
 The whole fruit fermentation technology is adopted to avoid the noni in pulper beating of pollution;
 The three stages of autologous fermentation technology, avoid production process for high-temperature cooking sterilization process of the noni original composition;

Noni factory three stage autologous after fermentation of pure noni enzyme because of its active ingredient, it has strong antibacterial ability, and because of the king of noni fermented completed noni is not " Stop fermentation " this step, so before filling into production into finished.

 Production is used when filling pasteurized sterilization kettle 87 ℃ / 3 second, avoid because of high temperature and long time of sterilization in the process of filling again destroy noni original nutrients, but also have the maximum at the same time retain original noni enzyme active ingredients, and safety.
Other details:
generally adopted by the 102 ℃ ~ 115 ℃ high temperature sterilization time 30 ~ 50 seconds sterilization ways or have completely killed noni enzyme active ingredients. Also have after boiler sterilization method, with up to 115 ℃ above way of uht processing, it has been completely destroyed the noni itself original effective active ingredient.